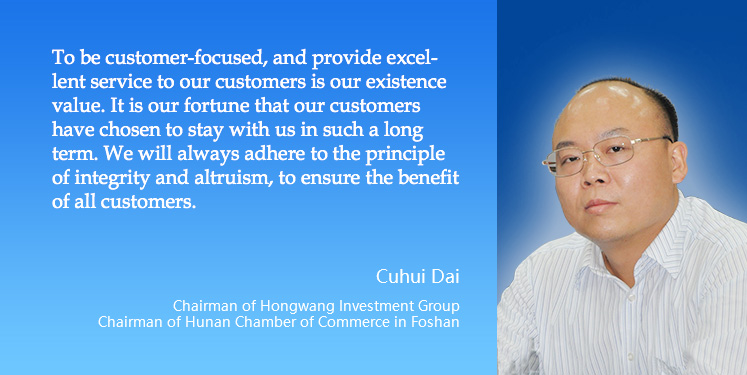 Hongwang Investment Group established a strategic partnership with famous steel enterprises to achieve effective integration of production-supply-marketing resources in order to further enhance our product quality. By developing products which satisfied the needs from our customers Hongwang insists on enhancing the productivity, promoting the cost control and resource management; meanwhile to achieve the growth of corporate value. In addition to focus on the efficiency and the equipment, Hongwang constantly explores more effective management method which will lead our company to the top-ranking stainless steel group.

Hongwang adhering to the vision of "to become the most competitive enterprise of cold-rolled stainless steel"; The core value of "customer focus, treat employees, integrity management, sustainable development", to promote the spirits of "winning through innovation, dare to struggle". We have trustworthy and high efficiency management team together with professional staff which gives Hongwang the strength to satisfy our customers with quality products and excellent service.

The first set of three stand tandem mill with the continuous annealing and pickling line put into production on September 30, 2015 with the annual output of 700,000 tons in Fujian Hongwang. The second 2 sets 300,000 tons of 20-high mill with the assorted continuous annealing and pickling line put into production on March19, 2016.The five stand tandem mill with eighteen rolls in Zhaoqing Hongwang as the first smooth operation line in China. The success of this project fills the gaps in multi-rolls of cold tandem rolling technology in China. The multi-rolls of tandem mill operated simultaneously with high efficiency combined with qualified operation process which has been successfully implemented in Fujian Hongwang and Shandong Hongwang. Until 2016, the annual output of Hongwang Group will reach 2,800,000 tons which shall have established a solid foundation for future development of Hongwang.

We are looking far ahead with philanthropic and one mind team spirit to accomplish the common idea of succession of Hongwang so as to create the value for our customers!